Avacta granted EU approval for Covid-19 test
---
Listed biotechnology business Avacta Group has been granted approval to market its Covid-19 lateral flow test for professional use in the EU.
The company has received notice of registration of its AffiDX SARS-CoV-2 antigen lateral flow test, enabling it to place the product on the market in all 27 countries of the EU for professional use.
It follows on from the UK approval for the test secured earlier this month (June 2021).
Avacta, who has sites in Wetherby and Cambridge, is progressing multiple commercial opportunities with distributors and end users in Europe, with the product registration said to be the key final step towards commercialisation.
Dr Alastair Smith, chief executive at Avacta Group, said: "We are delighted to receive confirmation of the registration of the AffiDX SARS-CoV-2 antigen test in the EU. The EU is an important market for us, and the product registration is a key commercialisation milestone.
"The results of the recent clinical evaluation of the test at a clinical site in Europe demonstrate the test has excellent sensitivity across a range of viral loads, which would be considered infectious.
"Lateral flow tests have a crucial role to play in helping our societies and economies return to normal, and I am confident that the AffiDX test will now play a significant part in this process."
Access Control UK – expert suppliers of end-to-end Physical Identity and contactless biometric solutions
Access control systems play a critical role in keeping infection rates down in the workplace. Not only this but they also only grant access to authorised members of staff into permissible areas of the site. This enhances the safety and security of the workplace, which is vital for a company such as Avacta where hygiene is the number one priority.
Tensor Access Control Systems offer a variety of contactless solutions that enable users to securely verify their credentials and gain access through a door without touching any surfaces. These include:
Tensor Proximity Card Readers: Slim, sleek and attractive, proximity smart card readers deliver multi-card format compatibility with extensive functionality. They are designed to work perfectly with Tensor contactless smartcards, meaning that users never have to touch the actual reader in order to gain access. Tensor readers are perfect for installations where aesthetics are of paramount importance, but where security is vital.
Facial Recognition Terminals: The Facial Recognition Terminals are among the world's most compact face recognition stations, offering very high matching speeds, accuracy, and level of security.Non-Contact Facial Recognition Access Control Technology provides a fast, highly accurate biometric solution for identifying employees and/or visitors and granting or denying them access to site.
Tensor Mobile Self-Service Module (SSM) iOS/Android App: The "Door Status" feature implemented in the Mobile SSM App provides users with an overview of the current status of the access doors controlled by Tensor access controllers and also enables the automatic door locking or unlocking directly from the app.
If you are interested in learning more about our range of access control systems, or are looking to upgrade your current security, please get in touch with amember of our team.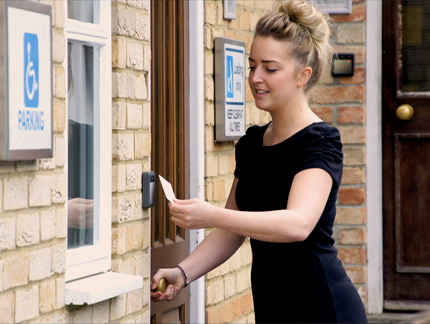 ---