Close to 80% of CSCS accredited construction workers now use electronic smart cards, audit reveals
---
The vast majority of employers in the construction industry use smart card technology to control site access, an audit carried out in October 2018 by Build UK and CECA has been able to suggest.
The government's strategy for the construction industry, Construction 2025, challenged the industry to adopt SmartCard technology by 2020. This means that by 2020 all industry skill cards will enable electronic card checking when presented at site gates.
By using CSCS' SmartCard technology, a contractor can not only certify that individuals working on construction sites have the required training and qualifications for the type of work they carry out, but also save valuable time and money. This technology makes card checking procedures more efficient and makes sites safer places to work.
Build UK and the Civil Engineering Contractors Association (CECA) have led the way to a safer and more efficient industry by carrying out a CSCS SmartCard audit across their members' construction sites.
In this audit, 80% of checks were done using CSCS SmartCard technology. This gave Build UK and CECA members a fantastic opportunity to display the efficiency and utility of their smart technology procedures.
Access Control UK– the partner of choice for Construction / Building Site Access Control
Professionals who hold a CSCS card can use their existing card to gain access to a construction site or similar, including through turnstiles or car park barriers. The WinAC.NET software includes a CSCS card wizard that allows system users to quickly grant contractors access to their access control system.
Other advanced features that can be enabled include a separate verification process where CSCS smartcard holders must report to a Site Manager for the Site Manager to verify the Contractor's details before permitting the CSCS smartcard to enter a site. This can be conducted on a site-by-site basis or can be applied to permit usage of a CSCS smartcard across a number of sites.
The CSCS smartcard provides a very powerful and cost effective means of centralising Time & Attendance, Advanced Access Control and Fire/Evacuation roll-call, re-using an existing CSCS smartcard as base for the entire system.
If you'd like to find out more about the integration of Access Control Systems with CSCS cards, just contacts us or Book a Demo, our representatives will be more than happy to answer all of your questions and queries.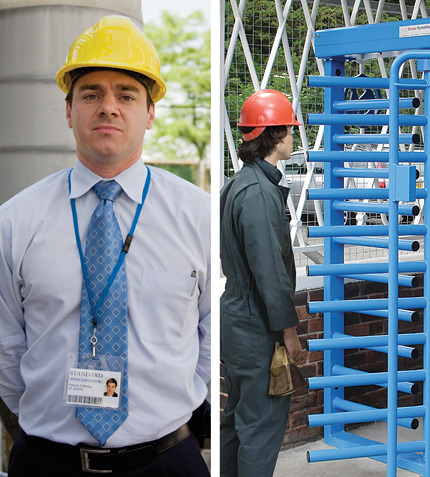 ---