Improve Business Security with an Access Control System
Comments Off on Improve Business Security with an Access Control System
---
Our range of access control systems will undoubtedly enhance your business' security measures and help to prevent your premises from theft and trespassing incidents.
With statistics from the Crime Against Businesses report on the Gov.uk website to express the rising crime rates for businesses within the UK, this article demonstrates how our access control systems can combat these crime rates and ensure the ultimate level of security for your business.
The 2021 Commercial Victimisation Survey (CVS) estimated that 38% of business premises in the Wholesale and retail sector in England and Wales had been a victim of crime between April 2020 and March 2021. This is similar to the 2018 prevalence rate (40%), though lower than the 2012 prevalence rate (53%).
The most common type of crime experienced by premises in the sector was theft (27%), followed by assaults or threats (12%) and burglary (10%).
Access Control Systems Improve Business Security
Access Control, including Smart Card Access Control or Biometric Access Control, has the ability to combat these high theft percentages of recent times. Not only do Access Control Readers help to reduce crime rates and improve the overall security of your business, but they also give you peace-of-mind that both your employees and assets are safe.  
Smart Card Access Control Readers
Contactless Access Control is an effective and streamlined method of ensuring only authorised personnel are granted access to and from your building at all times. With the use of Smart Cards, and our advanced smart card radio frequency reading technology, allows users to hold their smart card close to the reader to gain access or egress without actually touching the reader.
Of course, only delegated individuals can have their smart cards programmed to gain access into specific areas. Should an employee leave or change locations, the smart card can be handed in and reallocated to another employee with that person's specific access requirements.
Biometric Access Control Systems
Biometric Access Control is the modern and technologically advanced way of keeping your business' assets secure as well as ensuring employees are safe in the workplace.
Using a Biometric Access Control System takes your security measures to the next level. This is because it is virtually impossible for employees to share access using their facial features or fingerprints, whereas with smart card access control, it is easier to share smart cards around. Not only this, but smart cards can also be lost or stolen, and fingerprints cannot. This is why Biometric access control, such as Facial Recognition Access Control and fingerprint access control gives your business that extra layer of security.
If you would like further information regarding any of our Access Control Security Systems, then please do not hesitate to get in touch with a member of our staff who will be happy to help.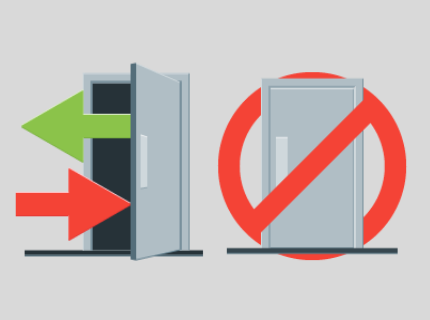 ---