Turnstiles
Which type of turnstile do you need?
---
Full Height Turnstiles provide a high degree of security with unmanned control, low intelligence and high reliability. They're equally suitable to internal and external use providing speed and reliability without compromising the safety of the user.
Available in single or double variants, Full Height Turnstiles are fully compliant with UK Health and Safety Regulations (less than 98 mm spacing between vertical bars). They are crafted from galvanized or powder-coated carbon steel or stainless steel 304-Grade (Opt. 316-Grade) and are available in a brushed finish stainless steel, electrostatic painted surface or mixed combinations.
When used in conjunction with card readers and the world class .NET access control software, they can reliably control access without the need for monitoring by staff.
Flow capacity is significantly increased compared with any swipe card or ticketing system, as the card is read in under ¼ second and doesn't have to be removed from a wallet or purse. Even greater security can be achieved with the addition of a fingerprint biometrics system, capable of providing the perfect barrier against illegal entry.
Full Height Turnstiles provide secured entrance within the perimeter protection line of industrial sites, company sites and car parks, sports complexes and harbor and airport installations.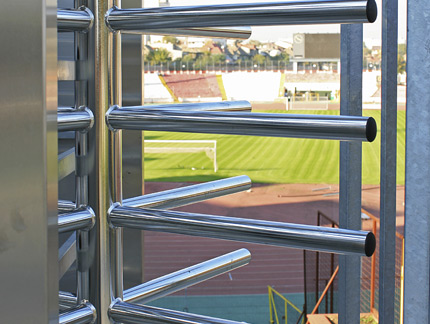 Half Height Turnstiles are designed for control of access to facilities with high requirements for passage comfort and provide an unobtrusive method of controlling flow to certain areas of your premises.
Available in both single and double versions, the turnstiles feature automatic drop (retractable) stainless steel arms with brushed (Opt. Satin) surface and support extensive flow capacity – 25-46 passages-per-minute (recommended reference figure).
Styled in tripod design, they are built to withstand intensive operation and also deliver a selection of options designed to ensure optimum installation in your environment.
Turnstiles are compatible with all access control systems that provide dry contact or grounding outputs and also offer an emergency mode, allowing free passage in case of an emergency situation or power failure.
Half Height Turnstiles are particularly suitable for securing access to administrative buildings, public authorities and industrial premises, as well as sports and leisure facilities (gyms, pools, spas, theme parks, stadiums, concert halls, etc.).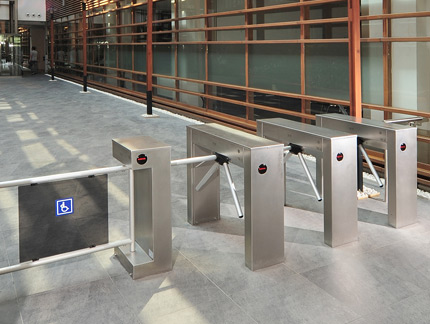 Glass Turnstiles deliver the full functionality of a high-end access control system while also fitting seamlessly and elegantly into any high-status environment where appearance is equal to functionality.
The turnstiles combine cost-effectiveness and aesthetic appearance, boasting a transparent and elegant design that integrates into all architectural surroundings.
They also ensure optimum pedestrian throughput and can easily integrate an access control device that delivers a higher level of security in a sophisticated style, an essential element for today's corporate lobby environment.
With a sober and modern look, Glass Turnstiles are particularly well-suited to the entrances of buildings such as offices, banks and insurance companies, governmental establishments.