Access Control Reader Market to Record Strong Growth Until 2025
---
The permanent need for enhanced security at all levels of an organization will lead to a significant growth in the access control reader vertical, a recent market research report has been able to suggest.
The "Global Access Control Reader Market Report" from Market Research Inc, includes in-depth research about the current and future status of the global market. According to the company's researchers, the Access Control Reader Market to grow at a CAGR of +12% during the forecast period 2019-2025.
Physical Access Control (PAC) deals with the limitation of physical access to an area, and consent to access the respective area is called approval. This particular business vertical is the biggest adopter of access control readers. Among the adopted technologies in this vertical we can encounter business premises, for example, ventures and server farms, banks and other financial organizations, hotels, retail locations and shopping centres, as well as leisure areas. All of these zones require access control readers for securing individuals and resources by forestalling unapproved access.
Access Control UK – expert suppliers of Access Control Readers and Access Management solutions
Access Control UK employs a variety of access control technologies in order to create advanced solutions, enable users to exert solid, reliable and accurate control over the access to specific premises or zones.
Our access control readers are supplied ready to install and can operate across a cable or Ethernet network. They can also be mounted next to your barriers or turnstiles enabling you to quickly set up a powerful computer controlled security infrastructure.
The contactless smart card access readers can be configured in many different arrangements, controlling a smaller number of doors at first and then more at a later date as need and/or budget permits. Supported card formats include EM, HID Prox™, HID iClass™, MiFare™, and DesFire™.
If you'd like to find out more about the range of solutions supplied by Access Control UK, both in terms of hardware (smart card readers, biometric time and attendance readers, turnstiles, etc.) and software (access rights management software solutions, etc.), just contact us, we'll be more than happy to answer any queries you might have.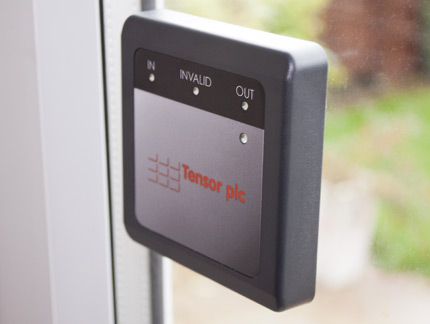 ---