Access Control Segment growth to be driven by building and city automation
---
Although smart cards remain the most popular form factors used for access control applications, the market evolution is pushing access control implementers toward technology convergence, exploring and combining RFID, NFC, Bluetooth, biometrics and smart cards. alongside smart devices including mobile and wearables, a recent market research report from ABI Research has been able to suggest.
Smart cards remain the predominant form factor used within the access control market, projected to reach over 250 million shipment units by 2022, but the next-generation access control opportunity is presenting itself via tie-in and convergence with other technologies and services, most notably within the smart cities and building automation domains, leaning on access control credentials as a means of further automating systems and personalizing experiences.
Biometrics continue to gain a considerable position in the access control market, used as a standalone authentication solution or in conjunction with other technologies and devices for MFA purposes. The drive toward personalization is creating further emphasis on secure individualized identities. From smart cards with integrated fingerprint scanners to behavioral scanner access gates the range of technologies is extensive.
The rise in smart homes and building automation is driving new fields from which access control can penetrate using an access control credential as a central identifier to tie into other services and systems (i.e., Alexa, music devices, shutters, heating, lighting, etc.). In turn, this is presenting a significant diversification opportunity through tailored and individualized preference enablement.
"Multiple-application smart cards and BYOD (Bring Your Own Device) solutions will prove to be crucial elements in enabling convergence with other applications including payments or ticketing," said Jonathan O'Flaherty, Research Analyst at ABI Research. In addition, technology coexistence is driving new innovative and personalized services. "Market convergence is the natural evolution of the smart card market; be it from a payment, transport ticketing, or ID. As such, using an access credential as the enabling identifying anchor point can lead to large-scale multi-application service enablement," O'Flaherty added.
Access Control UK – delivering superior security and reliability
Access Control UK is the No.1 British designer and manufacturer of smart card – based access control and time and attendance terminals. We supply top-quality, reliable and secure Access Control Systems that adhere to the latest industry standards and have numerous partners and distributors across the world.
You can control most standard types of internal/external electronic door releases and physical security devices such as barriers and turnstiles making full use of location points, whether in full view or hidden out of sight.
Operated by contactless smart cards, key fobs or biometrics, a Tensor Access Control System gives you full control over who is allowed access through any controlled point at any time of any day, placing it at the forefront of security solutions.
Access Control UK systems are modular in design, and have the advanced capability of being able to be adapted and extended to integrate with a time and attendance system seamlessly and without complication.
If you'd like to find out more about the extensive range of access control solutions supplied by Access Control UK , just contact us or Book a Demo, we'd be more than happy to answer all of your questions and queries.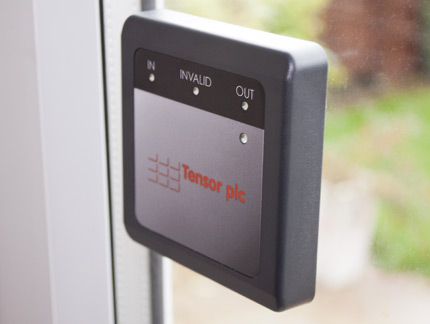 ---