Access Control UK – experts in deploying advanced iris recognition biometric access control solutions
---
Biometric access control systems using iris recognition technology are likely to record a significant growth until 2021, with rising demand for authentication and extensive support from governments listed as major factors fuelling the growth, a recent news report has been able to suggest.
Iris recognition is an authentication process in which the random iris patterns of a person are analyzed. These patterns are captured using digital cameras and illumination by near infrared technique.
Iris biometric recognition has several advantages such as high accuracy and time performance of the technology. Several countries across the globe have deployed iris biometric systems for automated cross border activities and creating national IDs for the people. This has reduced the time for verification of the person travelling from one place to another across the globe.
The national security agencies are using iris scanning technology to verify the identity of the people immigrating into their countries. Further, with advancement in technology and rising demand for security, this technology is expected to be used for big residential buildings over the coming years. However, the technology is intrusive and very expensive.
The rising demand for authentication and extensive support from the government are major factors fuelling the growth of iris biometrics market. Additionally, the rising demand for E-passport, criminal identification and surveillance in public gatherings are other factors that add to the growth of the market.
Further, the use of biometric recognition in E-commerce and setting up of a hosted security system on cloud are expected to attract new and existing players towards growing trend in security and authentication. Additionally, the players in this market are expected to deploy multimodal biometric recognition systems to integrate their existing systems with iris biometric system.
However, high cost and fear of privacy disturbance are the major concerns that could pose challenge to the growth of the market. Other factors affecting the growth of the market are the technical issues regarding the compatibility with existing systems and time to develop the iris recognition system.
Access Control UK – experts in deploying advanced iris recognition biometric access control solutions
Access Control UK employs a variety of access control technologies in order to create advanced solutions, enable users to exert solid, reliable and accurate control over the access to specific premises or zones.
The access control systems supplied by Access Control UK also support an effective Fire Roll Call feature, which will enable employers to evacuate the personnel off the premises in a very orderly and clear manner, should a fire, explosion or some other type of catastrophe occur.
If you'd like to find out more about the range of solutions supplied by Access Control UK, both in terms of hardware (smart card readers, biometric readers, turnstiles, etc.) and software (access rights management software solutions, etc.), just hit the contact button at the top of the screen, we'll be more than happy to answer any queries you might have.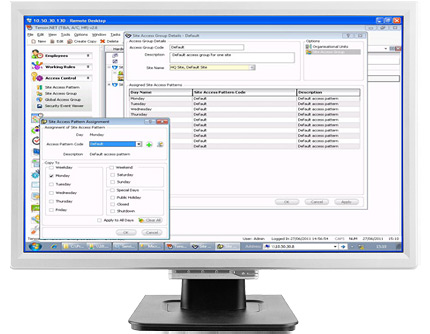 ---