Accurate and Secure Identify Verification is a Must for High-Profile Technology Research Centres
---
Deploying a secure access control solution fully capable of ensuring rapid identification and streamlined access is a must for any high profile technology research facility such as the future space tech incubation centre set to be developed by the European Space Agency at Space Park Leicester, a £100m facility being built in the shadow of the National Space Centre.
Space Park Leicester joins a UK-wide ESA BIC programme, alongside the Harwell Campus in Oxfordshire, Sci-Tech Daresbury in the North West and the Royal Observatory in Edinburgh – each one with strong links to the world leading specialisms that companies joining the programme can benefit from.
The University of Leicester, lead partner in the Leicester space park, has a global reputation for satellite research.
The first part of the space park to open will mainly be used for research into "Earth observation" – for instance, how satellite data can be used for anything from studying air pollution to looking at illegal logging in the Amazon or helping the transport and logistics sector.
Global players such as Lockheed Martin, Thales Alenia Space, Hewlett Packard, Airbus and Amazon have already signed up to phase two of the space park, to be called the Manufacturing, Engineering, Technology and Earth Observation Research Centre – or METEOR. It will work on the practical applications of satellite technology and the data they capture.
At its other sites, the ESA incubation programme – a collaboration with the Science and Technology Facilities Council (STFC) and the UK Space Agency – has already helped 87 start-up companies turn their ideas into viable products and services.
Of those, 73 have graduated from the centre and raised more than £72 million in investment.
Companies joining the programme will have access to the university's research and development capabilities in areas including earth observation, environmental monitoring, high performance computing, data science, AI and space engineering.
Access Control UK – the go-to company for secure, reliable and affordable access control systems
Access Control UK employs a variety of access control technologies in order to create advanced solutions, enable users to exert solid, reliable and accurate control over the access to specific premises or zones.
An UK-based manufacturer, we have over 30 years' experience in designing, installing and commissioning outstanding security solutions. We take great pride in our commitment to provide the best possible customer care and adhere to the highest British and International security standards, which is why we've been formally accredited by several accreditation bodies (visit our Accreditations page for more information).
The Access Control Systems supplied by Access Control UK are modular and fully scalable in design, thus allowing you to build your access control system to match your specific requirements, whether you're a small company with under 250 personnel or a large multinational corporation.
If you'd like to find out more about the range of solutions supplied by Access Control UK, both in terms of hardware (smart card readers, biometric time and attendance readers, turnstiles, etc.) and software (access rights management software solutions, etc.), just contact us, we'll be more than happy to answer any queries you might have.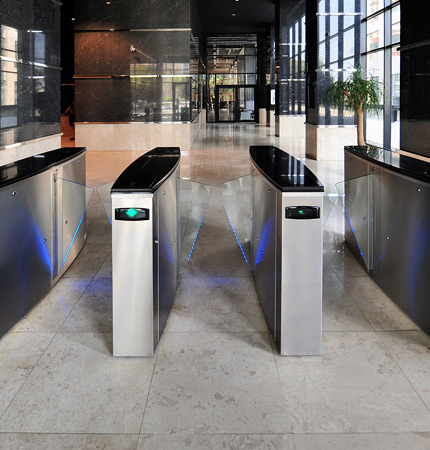 ---