Data Security Requires Solid Access Control Systems
---
While most threats to data security are indeed in the virtual realm, the truth of the matter is that the threat of physical breaches into data centres is also real and requires a coordinated security strategy using a layered approach.
An organization's data centre holds delicate and highly confidential information that requires highest level of security. Therefore, it requires an access control solution that begins at the perimeter and moves to the building itself, then into the facility, the data center or server room and finally securing the cabinets and racks containing the wiring arrays and equipment. The security layers may feature perimeter barriers and surveillance, or secured entrances with high-level access control like mantraps and turnstiles, badging, multi-technology biometrics and analytics.
While physical security may not be the first thought in an environment of cloud computing and virtualization, it should not be overlooked or underrated as a critical tool for cyber security. Controlling access to and within the building and its servers is critical to overall data center security.
An immediate priority would be to limit access points into any facility housing a data center, while keeping unencumbered exits required for exit by fire codes. A high-security facility would require people entering the building to authenticate themselves a minimum of three times. Outer secured entrances to the facility could be a badge-in door with a buzzer or intercom system for guests.
A sophisticated visitor management system would require guests to receive temporary access rights via mobile or RFID access cards tied to the access control system for tracking. In the case of a co-location facility, security revolving doors with anti-tailing sensor systems can be used.
Access Control UK – The Experts in Designing, Installing and Maintaining Secure Access Control Solutions for Data Centres
Installing a very solid and reliable access control system at the company's new sites is really a must, and this is specifically where Access Control UK could lend a helping hand.
If you'd like to find out more about the range of solutions supplied by Access Control UK, both in terms of hardware (smart card readers, time and attendance biometric readers, turnstiles, etc.) and software (access rights management software solutions, etc.), just contact us, we'll be more than happy to answer any queries you might have.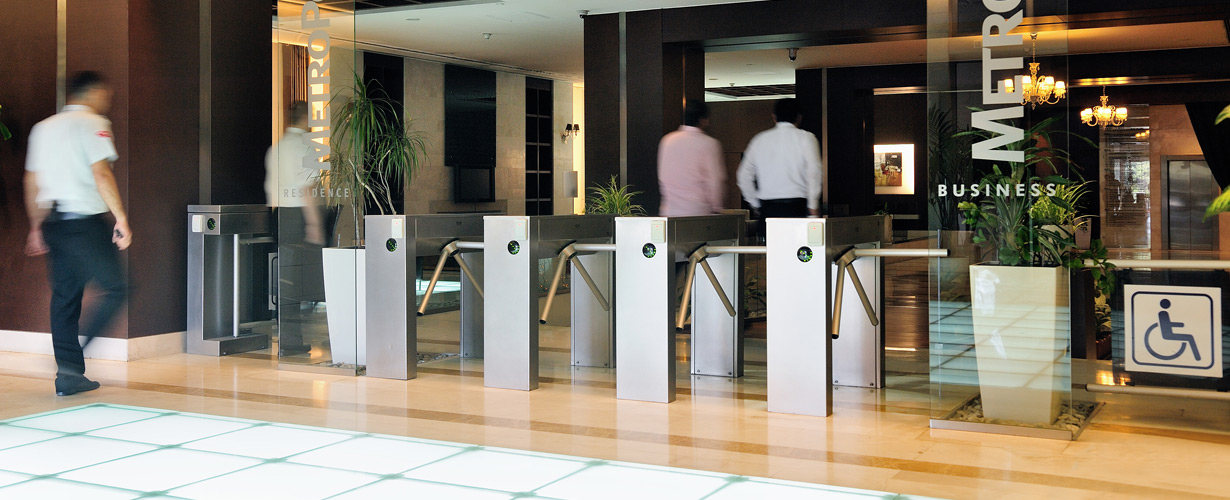 ---