Enjoy enhanced security and ease of use via an integrated access control system
---
Making sure that only authorized members of staff are able to access an organization's site is just the first step in securing access to an organization's premises. In fact, for total peace of mind and complete security, organizations need to deploy and integrate a variety of systems, such as video surveillance (CCTV), visitor monitoring and management, fire roll call, alarms and many more.
Integrating multiple systems together will make monitoring, updating and reporting much easier, while the business insight the systems provide will let you use time and resources more efficiently and improve health and safety for personnel and visitors.
An integrated system will act as a hub, allowing users to integrate and operate all their systems from one place and seamlessly control access via doors, turnstiles, lifts, car park barriers as well as monitoring real-time events via CCTV, controlling access to assets and areas via HR and active directory systems and tracking assets and personnel if need be.
The advantages of using an integrated system include the ease of use – all aspects of security and access are manager from one place through one programme – while integration with visitor management systems means you can save time for reception staff.
Enhanced security is yet another major advantage provided by integrated security systems, as they can be used to better identify who is where on site in an emergency situation, ensuring all personnel are evacuated safely if need be. Or, it can allow you to keep important training and accreditations on file and issue automatic renewal messages to ensure professional credentials and health and safety training are always up to date.
Access Control Software from Access Control UK delivers comprehensive visitor monitoring functionality
The powerful software supplied with all the Access Control UK solutions has a familiar Windows™ interface, providing quick and easy access to information. It is also highly scalable, from simple door and registration point control, through to a fully computerised global Networked Access Control System.
Some of the most important features include:
Access Control Profiles easily created or customised to suit your particular site, and can be varied minute-by-minute
Real Time (near) graphical display shows doors being opened / closed, those with alarm status set and forced entry
Doors may be configured to open automatically on fire alarms and lock automatically on burglar alarms
Anti Pass Back facility limits the same card being used by more than one person
CCTV Tracking of video clips showing "evidence quality" footage of forced entries, alarm events, users of Smart Cards gaining access or being denied
Door/Barrier Access can be limited depending on the persons' roll call status
Resilient System keeps running even when certain cables are cut or damaged or PC networks fail
Sensor Monitoring to detect forced entry
Audit Trail showing who gained access (or denied) at any location at any time
Biometric dermal fingerprint reading for maximum security and personnel authentication
Hardware Device Manager allows easy adding & editing of hardware device profiles
With our Access Control Software you can be assured that you will receive a simple to use, highly secure way of controlling access to areas or buildings, as well as monitoring who is present 24 hours a day.
If you'd like to find out more about the range of solutions supplied by Access Control UK, both in terms of hardware (smart card readers, biometric readers, turnstiles, etc.) and software (access rights management software solutions, etc.), just hit the contact button at the top of the screen, we'll be more than happy to answer any queries you might have.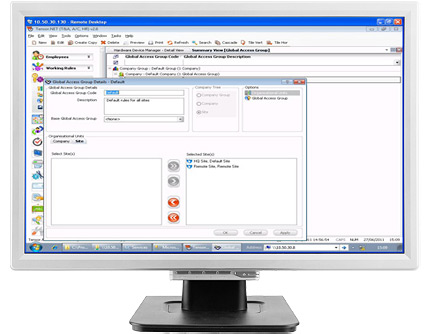 ---