Biometrics such as fingerprints add extra security reassurance in smart homes
---
A company which specialises in smart homes has made arrangements with a biometrics finger company in Austria in order to integrate the wall-mounted finger scanner into the house system and maximise security. Biometrics – measurements of unique parts the human body such as fingerprints, irises and faces – are much more difficult to hack or guess than a 4-digit PIN, and much more difficult to steal than a smart-card/keycard.
"eKey and Crestron took up the challenge of making door entry more secure and convenient," said Michael Short, global residential marketing manager for Crestron.
"To deliver on that, we focused on one of the aspects that makes us unique as human beings – fingerprints. Now, in essence, your finger is the key to your Crestron smart home."
Georg Schaffer, head of export, eKey Biometric Systems GmbH, concluded, "As a specialist in fingerprint technology and a proven vendor of outdoor rated fingerprint readers, we are very excited about our partnership with Crestron and the possibilities of this advanced integration. It's like turning Crestron into a biometric access control system by itself, featuring simplified administration centrally via – for instance – a Crestron touch screen. By saving multiple fingerprints of individual users, different functions can be triggered. Whereas your right index finger will become your new key for unlocking your front door, your left index finger will trigger a silent alarm when used under duress."
Access Control UK – experts in designing and deploying advanced biometric access control systems
Access Control UK provides enhanced security for all businesses with more than 10 employees. For maximum peace of mind, we offer a biometrics access control reader, which can be programmed to also demand a smart-card too. Multi-factor authentication is always more secure, and this biometrics and smart-card combination is no exception, since now no-one can enter your premises with just a stolen smart-card.
Our software can fine-tune and regulate individuals' access control options, from the very broad, e.g. all employees can go here and all guests cannot, right down to, for example, one particular person can enter this room between the hours of 11am to 3pm.
If you'd like to find out more about the range of solutions supplied by Access Control UK, both in terms of hardware (smart card readers, biometric readers, turnstiles, etc.) and software (access rights management software solutions, etc.), just contact us. We'll be more than happy to answer any queries you might have.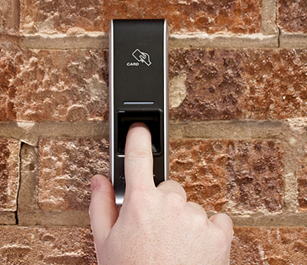 ---