Global intercom market set to soar by 2025, market research report can reveal
---
Rising concerns regarding global safety & security are expected to boost the usage of IP based audio and video intercoms, with the global intercom market being set to soar at a CAGR of a 9.2% between 2018 and 2025, a recent market research report has been able to suggest.
In 2017, IP-based intercom systems accounted for over 60% share of the global intercom devices market. IP based intercom devices have been gaining tremendous popularity among consumers. These intercoms devices offer better flexibility especially in commercial and government applications such as educational institutions, airports, healthcare centers.
Central security management works efficiently with the help of these systems. Furthermore, they enable better communication between various master and door stations, devoid of any distance limitations. Due to the diverse functionality of these IP based products, it is constructively used in security systems installed across various commercial, industrial, and residential sectors. As a consequence, it is expected to encourage the demand for IP-based video and audio intercoms in the near future.
Development of smart residential homes in countries including the U.S., China, India, and the UK, is anticipated to provide ample scope for the growth of the smart intercom system market by the end of 2025. North America was the largest market for intercom devices in 2017. The rise in the construction of smart homes in this region has significantly increased, with the government, as well as consumers, spending significantly on safety & security products. In Europe, the market is likely to be driven by the numerous service providers that plan to launch or expand their smart home initiatives with support from large marketing campaigns in the upcoming years.
Access Control UK – suppliers of secure Helios IP Force intercoms
The Helios IP Force – IP intercom offers a smart and effective solution for the secure access control and monitoring of a building entrance. Voice and video transmission is provided by standard SIP/RTP/RTSP protocols, which guarantee the best compatibility and integration with third-party IP systems.
The Helios IP Force is designed for operation in the most demanding conditions. The robust mechanical construction offers the highest protective coverage rating against dust and water and protection against mechanical damage (vandal resistant). Numerous deluxe features of the Helios IP Force provide high user comfort and guarantee secure access control for any extreme environment.
The intercom targets organizations from a variety of sectors and verticals, including business (offices, shopping areas), education (universities, campuses, schools, sports areas), healthcare (hospitals, laboratories), logistics & transportation (airports, parking lots or garages), government (prisons), industries (manufacturing & production, energy, metal & mining, chemicals).
HELIOS IP FORCE – IP INTERCOM – KEY FEATURES AND BENEFITS
Full integration with Tensor Facial Recognition Access Control
Maximal resistivity against dust, water, and mechanical damage
High clarity and volume in noisy environments
Wide-angle colour camera with night vision
Illuminated buttons and backlit keyboard
Integrated RFID card reader
Wide-angle colour camera with night vision
Illuminated buttons and backlit keyboard
Integrated RFID card reader
Secure admission to the building of authorised people at selected times
Entrance monitoring and following the movement of people
Interconnecting with other security systems in the building
Easy installation and integration into the existing LAN
Visual & Voice navigation – suitable for disabled people
If you'd like to get further details on the very comprehensive solutions supplied by Access Control UK and just how they can help your company become more efficient and save money, just contact us or Book a Demo, our team of dedicated representatives will be more than happy to answer all of your questions and queries.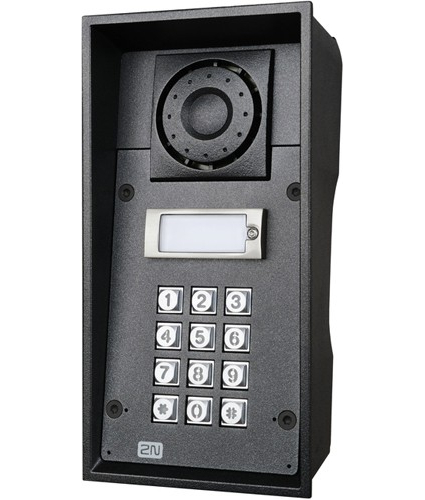 ---