Integrated Access Control Systems and IOT to become the backbone of building security
---
Integrated access control systems which fully leverage the advantages provided by IoT (Internet of Things) technologies will become the backbone of building security, experts believe.
Access control systems that adopt and drive open standards for interoperability will provide extreme scalability and increased ROI, while delivering better integration capabilities. Customers seeking to integrate new access control technologies, plus intrusion, elevator control, building automation, IoT and third-party applications into a common platform will be able to manage these systems more efficiently via a single infrastructure.
Additionally, the integration of cloud and IoT technologies with traditional access control systems will drive new, powerful tools that simplify and accelerate the deployment and management of PACS (physical access control). Cloud-based monitoring services that emerge from combining PACS with smart building applications will deliver robust analytics that proactively pinpoint and troubleshoot potential system failures. They will also monitor secure connections between peripherals and trigger firmware updates to address potential cyber threats. IoT functionality embedded into PACS panels will enable connections to the cloud-based services to simplify activation of these capabilities.
Organisations will begin to see the pay-off of using cyber-secure, interoperable solutions that leverage the cloud and IoT as customers embrace open hardware as the foundation for their PACS.
Access Control UK – the go-to company for secure, reliable and affordable access control systems
Access Control UK employs a variety of access control technologies in order to create advanced solutions, enable users to exert solid, reliable and accurate control over the access to specific premises or zones.
An UK-based manufacturer, we have over 30 years' experience in designing, installing and commissioning outstanding security solutions. We take great pride in our commitment to provide the best possible customer care and adhere to the highest British and International security standards, which is why we've been formally accredited by several accreditation bodies (visit our Accreditations page for more information).
The Access Control Systems supplied by Access Control UK are modular and fully scalable in design, thus allowing you to build your access control system to match your specific requirements, whether you're a small company with under 250 personnel or a large multinational corporation.
If you'd like to find out more about the range of solutions supplied by Access Control UK, both in terms of hardware (smart card readers, biometric readers, turnstiles, etc.) and software (access rights management software solutions, etc.), just contact us, we'll be more than happy to answer any queries you might have.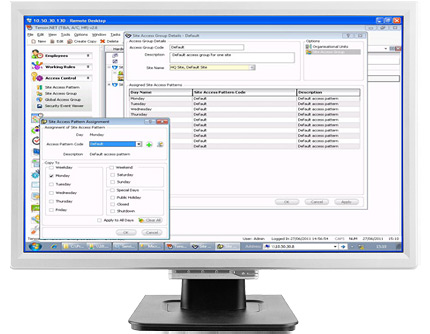 ---