Sharp rise in demand for IP-based access control systems during COVID-19 pandemic
---
The Covid-19 pandemic has triggered a sharp rise in demand for IP-based access control systems and intercoms, a recent news report has been able to suggest.
The very high level of contagiousness of the coronavirus coupled with the high volume of patients admitted to hospital with the disease has increased the need to secure specific wards and departments. At the same time, GP practices, pharmacies and other healthcare organisations have also had to look at their entry provision to minimise the risk of the virus spreading.
There is also a heightened need for controlling access to the general public. As a result, demand in the IP-based video intercoms range has grown, especially for one-way, single button entry units where a member of staff can grant access from their desk via videophone.
The videophones can also intercommunicate and cascade calls to other locations if they are not answered. What's more, an event call log can be viewed on the videophone with a video capture feature to see missed callers.
Helios IP Force – The Perfect IP Intercom for Touch-Free Access
The Helios IP Force – IP intercom offers a smart and effective solution for the secure access control and monitoring of a building entrance. Voice and video transmission is provided by standard SIP/RTP/RTSP protocols, which guarantee the best compatibility and integration with third-party IP systems.
The Helios IP Force is designed for operation in the most demanding conditions. The robust mechanical construction offers the highest protective coverage rating against dust and water and protection against mechanical damage (vandal resistant). Numerous deluxe features of the Helios IP Force provide high user comfort and guarantee secure access control for any extreme environment.
The intercom targets organizations from a variety of sectors and verticals, including business (offices, shopping areas), education (universities, campuses, schools, sports areas), healthcare (hospitals, laboratories), logistics & transportation (airports, parking lots or garages), government (prisons), industries (manufacturing & production, energy, metal & mining, chemicals).
HELIOS IP FORCE – IP INTERCOM – KEY FEATURES AND BENEFITS
Full integration with Facial Recognition Access Control
Maximal resistivity against dust, water, and mechanical damage
High clarity and volume in noisy environments
Wide-angle colour camera with night vision
Illuminated buttons and backlit keyboard
Integrated RFID card reader
Wide-angle colour camera with night vision
Illuminated buttons and backlit keyboard
Integrated RFID card reader
Secure admission to the building of authorised people at selected times
Interconnecting with other security systems in the building
Easy installation and integration into the existing LAN
Visual & Voice navigation – suitable for disabled people
If you'd like to get further details on the very comprehensive solutions supplied by Access Control UK and just how they can help your company become more efficient and save money, just contact us or Book a Demo, our team of dedicated representatives will be more than happy to answer all of your questions and queries.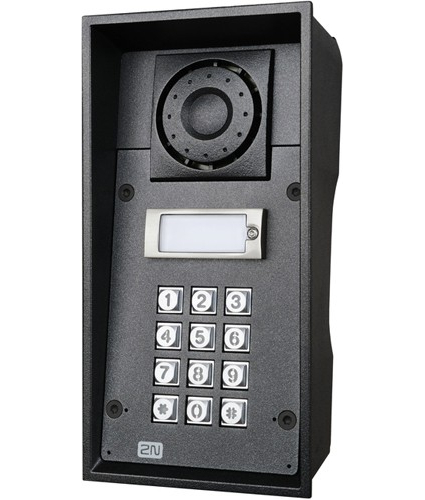 ---