The Access Management (IAM) Market set for very strong growth until 2022, report suggests
---
The Identity & Access Management (IAM) market is set to grow at a very strong pace over the next 3 years, with mobility and the Internet of Things representing some of the most important evolutionary factors, a recent market research report has been able to suggest.
The IAM market has evolved from a focus on access control and identity management to include governance and analytics. Another key component of IAM is Multifactor Authentication (MFA). IAM has grown more essential as mobility has broken down the physical perimeter that once protected corporate information and productivity systems.
Enterprises must secure remote access to their systems while not adversely affecting the productivity of employees and partners working through these systems with cumbersome access and security processes. Industrial IoT is also becoming a more interconnected environment that requires stronger and more flexible IAM oversight.
As the threats to networks, systems, and users themselves grow by leaps and bounds through the actions of more sophisticated and aggressive hackers, IAM suppliers are responding to the challenge with innovative and more integrated solutions. The public nature of the threat over the last several years is driving enterprises to the IAM market.
The adoption of cloud services has somewhat surprisingly had the biggest impact so far on large businesses rather than the small and medium-sized businesses it was expected to attract to the IAM market. Using cloud-based solutions, large businesses are able to more easily embrace a hybrid model that better supports both on-premises and cloud environments. The growth of small and medium-sized businesses will accelerate over the next three years.
Enterprises do not want to inhibit access to core business systems to be the price they pay for implementing more robust security. IAM that can improve both security and productivity has strong winds behind it in terms of growing demand.
Governance is also a key driver of IAM as new regulations across the globe, especially in the EU, are making it painful for companies that fall short on compliance. For these reasons, the researcher forecasts strong double-digit growth over the course of this study.
However, given the weariness that massive digital transformation has left enterprises with, IAM suppliers must be cognizant of adding to the overload and make adoption as seamless and painless as possible.
Access Control UK – specialising in deploying advanced access control system tailored to your specific requirements
Access Control UK employs a variety of access control technologies in order to create advanced solutions, enable users to exert solid, reliable and accurate control over the access to specific premises or zones.
The access control systems supplied by Access Control UK also support an effective Fire Roll Call feature, which will enable employers to evacuate the personnel off the premises in a very orderly and clear manner, should a fire, explosion or some other type of catastrophe occur.
If you'd like to find out more about the range of solutions supplied by Access Control UK, both in terms of hardware (smart card readers, biometric time and attendance readers, turnstiles, etc.) and software (access rights management software solutions, etc.), just hit the contact button at the top of the screen, we'll be more than happy to answer any queries you might have.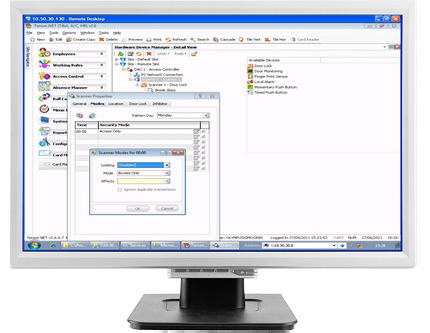 ---