Turnstiles deployed in Venice in an attempt to limit the massive flows of tourists
---
Turnstiles have been deployed in Venice in an attempt to limit the massive flows of tourists in its streets, a news report has been able to suggest.
The tourists heading to the Cannaregio district and to the part of the Castello district bordering San Giovanni e Paolo have been allowed to transit through, but the Ponte della Costituzione bridge will have gates to limit numbers.
If crowds are too large, tourist boats cannot dock in front of St. Mark's Square.
I see nothing wrong" in the turnstiles, Mayor Luigi Brugnaro told ANSA news agency. He said tourists are important guests, but that he had a responsibility for the security of the residents of Venice.
Local paper La Nuova Venezia reported some resistance from shopkeepers and major complaints from tourist boat operators forced to offload passengers in less-than-ideal locations.
Police commander Marco Agostini told the paper he welcomed the experiment as a necessary measure.
Access Control UK – suppliers of Full Height Turnstiles for access restriction solutions and crowd control
Full Height Turnstiles are recommended for use when absolute entrance or exit security is required, especially in unguarded locations. Tamper-resistant and weatherproof, full height turnstiles offer unrivalled reliability, as well as a more comprehensive visual deterrent compared to that of half height turnstiles.
Our access control turnstiles fully integrate with our smart card and biometric access control systems, giving you full jurisdiction over movement and access in and around your site.
Features:
High traffic volumes;
Strict security standards;
Severe operating conditions;
Galvanised with polyester powder coat finish for extra durability;
Interior and exterior installations;
No routine maintenance;
Available in any RAL colour as a special order at low prices
If you'd like to find out more about the extensive range of access control solutions supplied by Access Control UK , just contact us or Book a Demo, we'd be more than happy to answer all of your questions and queries.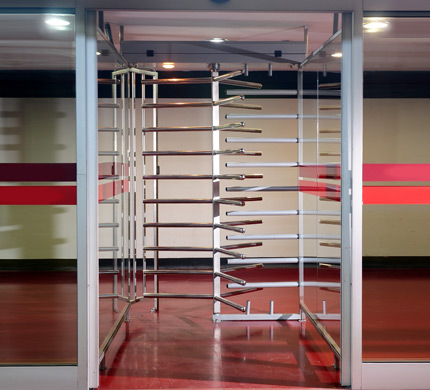 ---