Turnstiles and Leisure Centres – A Match Made in (Security) Heaven
---
Without a doubt, the use of turnstiles for streamlining – and in the same time, securing – access to leisure centres should come as standard nowadays, given the huge economies of scale and also enhanced security and safety these solutions can provide.
Security turnstiles integrated with membership management systems (and a strong access control component) prevent the risk of unauthorized entry into the facility by non-members and "friends of friends", especially during peak times, when reception teams can sometimes be overwhelmed by the number of people trying to access the premises.
When turnstiles are present, members can bypass the reception desk, walk up to the turnstile, present their credentials, and upon authorization from the membership management system, proceed through the turnstile. If there are two or more turnstiles, the amount of traffic throughput is incredibly efficient compared to using reception staff to register members at the desk. Members will appreciate not having to wait, as most turnstiles can handle about 30 people per minute.
Turnstiles by design allow only one person to enter per authorization. The 3-arm, tripod turnstile only rotates an arm 120 degrees, enough to let one person pass, and then it locks. In addition to tripod turnstiles, optical turnstiles, once only found in Class A office building lobbies, are becoming popular with rec centers.
Optical turnstiles make a great choice because of their automatic, quiet barrier operation (swinging or sliding glass), aesthetically pleasing design, and their ability to sense when two people rush through on a single authorization, which will generate an audible alarm.
Access Control UK – Expert Suppliers of Turnstiles and other Pedestrian Access Restriction Solutions
Access Control UK can provide you with a system that allows rapid communication enabling maximum flow capacity across multiple areas of your site. Our access control turnstiles (including coin operated toilet turnstiles) fully integrate with our smart card and biometric access control systems, giving you full jurisdiction over movement and access in and around your site.
Durable in design, all turnstiles supplied by Access Control UK come complete with a full two-year guarantee, giving you peace of mind that your physical security equipment will provide your site with security well into the future.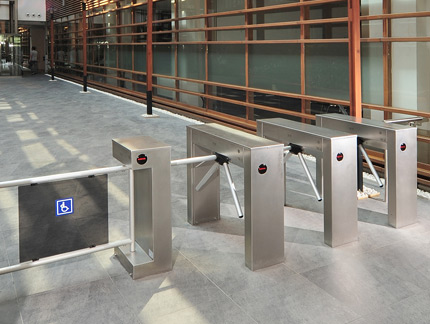 ---